You are invited to the Siuslaw Watershed Council's Virtual Watershed Community Meeting on January 27th, from 5:30-7:30 PM on Zoom.
Connect with your neighbors
Hear a presentation on the innovative and award-winning Fivemile-Bell Restoration Project, given by Paul Burns (USFS) and Kyle Terry (SWC), who have many stories and observations to share from a decade of work on this recently completed project.
Hear about the Council's diversity, equity, and inclusion work
Participate in the confirmation of the SWC's Leadership Body Members
Participate in the SWC's Board of Directors elections
We are always excited about interest in joining the Council's membership, Leadership Body, and Board of Directors! If you would like to know more, or know that you want to become involved, please contact us. We will be accepting nominations for Leadership Body and Board of Directors positions up to and during the meeting, and all members of the Council are eligible to vote.
We would love to see you, virtually, in January! The Zoom log-in information is below. If you are new to Zoom, or would like help making sure that you can attend the meeting, please email us at watershed@siuslaw.org, or call us at (541) 268-3044.
Zoom Log-on Information:
Topic: SWC's January 2021 Watershed Community Meeting
Time: Jan 27, 2021--5:30 PM Pacific Time
Join Zoom Meeting on your computer by clicking on this link:
https://zoom.us/j/94728126804?pwd=R0I0UXdyMU00NWpDNjI3TEJKVkxZUT09
Join by phone by calling the following number and providing the Meeting ID and Passcode:
Phone number: 253-215-8782
Meeting ID: 947 2812 6804
Passcode: 190080
In other SWC news:
We are accepting submissions for our Winter Photo Contest, with the theme of Birds of the Siuslaw. Visit siuslaw.org for information on how to submit photos.
The Native Plant Distribution program is still taking requests for native plants to be planted along streams in the Siuslaw Watershed. Distribution day is February 6th. Visit our website, at siuslaw.org to find out more.
Program News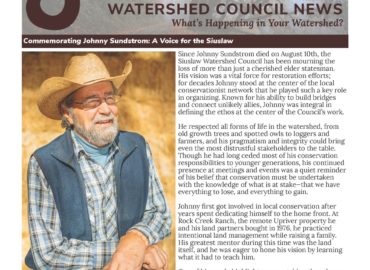 Fall 2023 Newsletter
To view the full PDF version of our newsletter, click the link below: Fall 2023 Newsletter
Read More
Summer 2023 Newsletter
To view the full PDF version of our newsletter, click the link below: Summer 2023 Newsletter
Read More