Working together to steward the lands and waters of the Siuslaw and Coastal Lakes to benefit our communities, economy, environment and future generations.

From the farthest reaches of our forests to the river basin and onward to the beach, everywhere you go in the Siuslaw and Coastal Lakes, our rivers connect us. And the annual return of salmon — strong, vital, wild — is an essential link from the water to the well-being of our communities, economy, and environment. When we invest in the health of our lands and waters, we restore our connections to each other and this place we call home. Join us.
The Siuslaw Watershed Council supports sound economic, social and environmental uses of natural and human resources in the Siuslaw River Basin.
The Council encourages cooperation among public and private watershed entities to promote awareness and understanding of watershed functions by adopting and implementing a total watershed approach to natural resource management and production.
News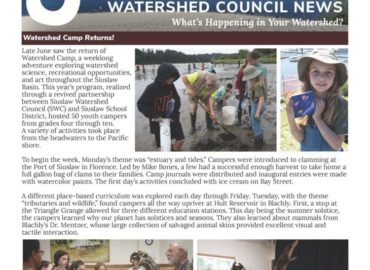 Summer 2022 Newsletter
To view the full PDF version of our newsletter, click the link below: Summer 2022 Newsletter
Read More
Resources for commonly asked questions and some of our favorite ways to explore the Siuslaw watershed.