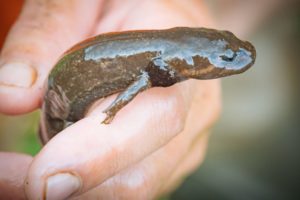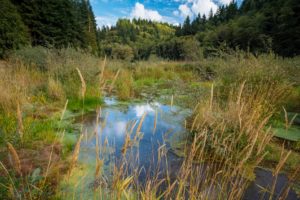 Joint News Release from the Siuslaw National Forest and Siuslaw Watershed Council
Reedsport, OR: The Fivemile-Bell Watershed Restoration project located about 10 miles south of Florence, OR on the Central Coast Ranger District has been selected for the 2019 Western Division of the American Fisheries Society (WDAFS) Riparian Challenge Award in the United States Forest Service category.
WDAFS presents this award to managers and resource specialists to recognize their efforts in maintaining, restoring, and improving riparian and watershed ecosystems.
The Fivemile-Bell restoration project is a decade-long innovative project that covers about 5,000 acres of national forest land working to restore a critical floodplain to dramatically improve habitat for Oregon Coast Coho salmon, a federally threatened species, and other aquatic and terrestrial animals.
The project uses new research to guide the re-establishment of historic stream and floodplain interactions and restoring a native riparian plant community on land formerly used for farming, improving and creating habitat in one of the most productive stream systems in Oregon.
Additionally, the restoration accelerates the development of late-successional and old-growth characteristics in surrounding forest and uplands benefiting a variety of species, such as the northern spotted owl and marbled murrelet, creating a sustainable and resilient landscape.
"This is a representation of all the hard work that has occurred over the last decade" said Paul Burns, USFS project lead. "We share this recognition with the many partners that have worked on this project."
This project is a partnership among a number of organizations and agencies, including the Siuslaw National Forest, Siuslaw Watershed Council, Siuslaw Institute, Elkton Community Education Center, Confederated Tribes of the Coos, Lower Umpqua, and Siuslaw Indians, Confederated Tribes of the Siletz Indians, Ecotrust, Oregon Watershed Enhancement Board, the National Oceanic and Atmospheric Administration and Western Rivers Conservancy.
"The Fivemile Bell project showcases the incredible social and ecological outcomes that result when diverse project partners work together" said Eli Tome, Executive Director of the Siuslaw Watershed Council. "Partners have invested over $1 million in this innovative restoration project over the past decade. Research indicates this investment has supported over 15 local jobs which is critical in our rural community. Restoring this area is supporting one of the strongest runs of threatened Coho salmon on the Oregon Coast. This project is an investment in our community, economy and environment today, and for future generations."
To learn more about the Fivemile-Bell Watershed Restoration Project visit: https://go.usa.gov/xmAV8
Visit the Siuslaw Watershed Council's website to hear personal narratives from local project partners at Fivemile Bell, and other restoration projects throughout the area at https://www.siuslaw.org/why-we-restore/
---------------------------------------------------------------
The Siuslaw National Forest manages more than 630,000 acres of temperate rainforests along the Oregon Coast Range, from Tillamook to the end of the Oregon Dunes National Recreation Area in Coos Bay. Additional information is available online at www.fs.usda.gov/siuslaw, www.twitter.com/SiuslawNF and www.facebook.com/SiuslawNF
The Siuslaw Watershed Council supports sound economic, social and environmental uses of natural and human resources in the Siuslaw River Basin. The Council encourages cooperation among public and private watershed entities to promote awareness and understanding of watershed functions by adopting and implementing a total watershed approach to natural resource management and production.
Contacts:
Forest Service: Lisa Romano, 541-750-7075, lisa.romano@usda.gov
Siuslaw Watershed Council: Eli Tome, 541-268-3044, eli@siuslaw.org