Everything has a voice if you know how to listen…
As we work with the goal of watershed restoration we must remember to listen to and work with those that managed it for thousands of years sustainably before we got here. The Siuslaw and Kalapuya people lived alongside each other in this area for thousands of years, hundreds of generations. Their cultures' of respect and observation leading to Ceremony that sustained the surrounding area for future generations. Come listen to Tribal Members of the Confederated Tribes of Coos, Lower Umpqua, and Siuslaw Indians as they share knowledge of their watersheds, culturally relevant plants, and integrating traditional knowledge of their Ancestors into cultural and scientific practices to reach cooperative goals for the future generations of all our people.
Alesong Brewing has offered us their patio for the evening to learn more from our partners at the Confederated Tribes of the Coos, Lower Umpqua and Siuslaw Indians. Join us starting at 5:30 to enjoy a beverage and order some food, the presentation will start at 6:00 and we'll wrap up around 7:30! If you're coming from the coast, you may enjoy a scenic drive up the old Siuslaw Highway, winding along the Siuslaw River's path as it cuts through the Coast Range to the headwaters in Lorane.
Program News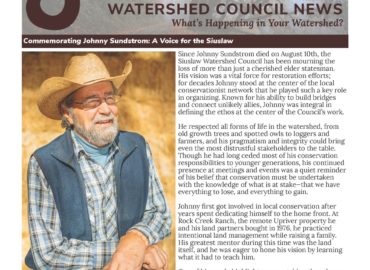 Fall 2023 Newsletter
To view the full PDF version of our newsletter, click the link below: Fall 2023 Newsletter
Read More
Summer 2023 Newsletter
To view the full PDF version of our newsletter, click the link below: Summer 2023 Newsletter
Read More